Housing and Sanitation
Housing is one of the key manifestations of dignified human life, which enhances positive self-image and self-identify of the individuals in a family. We have been supporting our partner families to construct their own houses based on the economic capacities of the household with guidance and support from various agencies. In order to improve the health status we give prime importance for sanitation and smokeless choolah. Housing has also become an indicator of development. We aim at providing quality cost effective and eco-friendly housing to citizens especially to the vulnerable groups and the poor.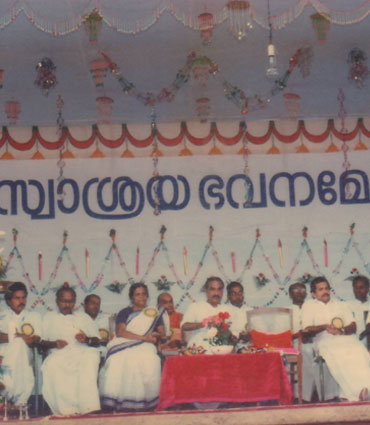 Objectives
To promote low cost rural housing and sanitation
To enhance the capacity of rural people to cost effective and eco-friendly construction technologies
To promote gender participation in house construction
To promote participatory approach in housing through PAR
KSSS Housing program
Over the past fourty years KSSS has constructed 1607 houses for the poor and homeless people living in our operational area. The main aim of KSSS is to provide the basic facilities like housing, sanitation, food, dress etc. of the people living in our operational area without any discrimination of caste and creed. Every year KSSS is giving more importance to these programs.
Mar Mathews Housing program
We are launching a new housing program named after our first patron of the KSSS, Mar Mathew Pothanamuzhi. The beneficiaries of the program are landless people within the territory of KSSS. People are contributing land for this purpose. In the first place we are planning to build 10 houses with 5 cents of land for each houses.
KSSS Sanitation Program:
KSSS started its sanitation programs in 1991 with a mission to construct toilet in all the families in our operational area. Sanitation is very important in health care. KSSS provides awareness among its people about the importance of sanitation and low cost technology in constructing toilets. KSSS gives subsidies and financial support to the credit union members who lack toilet facility in their houses. KSSS is running this program with the support of the diocese as well as the SAFP (I).so far KSSS has constructed more than 1275 toilets in its operational area.